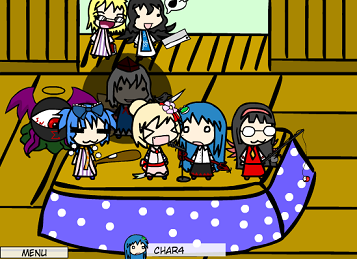 Well, here's the unexpected interface update you haven't been waiting for! Surprise! Thanks to Thefre who generously offered to handle all the actionscript (meaning he did all the
actual
work), we now have a highly improved version of create.swf. What are the new features in this new version? Read on to find out!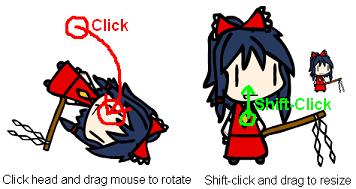 Rotating and resizing characters has now become much easier. Click on a character's head and move your mouse to rotate the character, or shift-click and drag your mouse anywhere on the character to resize it. If you want move your character around the screen, simply click and drag its body. It has its own friction system, so the characters slide around when you let go of your mouse. The friction setting is configurable in the "setting" option in the menu, so you can play around with it as you wish.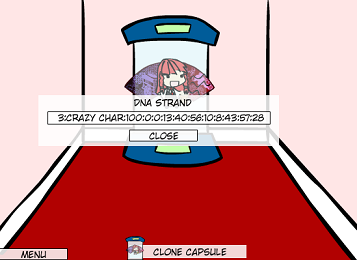 Also in this new version: a clone capsule! This can be found in the "toys" option in the menu You can drag characters into the capsule to make copies of them or generate a DNA strand code. If the machine is empty, you can paste your DNA strand code into the text box to create a character based on the code! There's also a "tinker" option, which does different mysterious things depending on how many times you click it.
Suika's gravity well! This toy causes all the characters on the screen (Oh yeah, another option: multiple characters) to gravitate towards it. If there are too many characters moving around for you to click on it, you can simply press G to make it follow your mouse.

Too many characters for you to handle? You can summon Grouchy Reimu from the toys menu to get rid of them! Simply doubleclick her (or click "Hey Reimu!" in the character portrait options) to activate Hax Sign ?Burn Everything?! The characters will change their expressions, and then they will be burned one at a time. If the explosion sounds are annoying, you can turn them off in the options.
Yeah, speech bubbles. They're in here too. Drag them around, double-click to input text, and use shift to scale the speech bubble with the text. You can use ctrl to move only the bubble around, or shift+ctrl click to change the height/width of the bubble. Now it's possible to make
stuff like this
!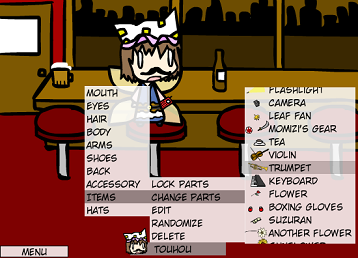 The character portrait menu is a new way to choose parts of your character. Faces have now been split into eyes and mouths, so there's more opportunity for customization! In this menu, you can also flip the character and alter their depth (so they can be behind or in front of other characters on the screen). You can also double-click a character to go to the traditional next/previous menu, with a bunch of extra options such as locking or renaming. Holding shift makes the scrolling faster.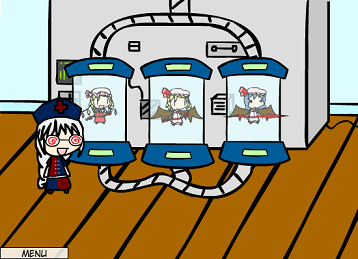 New interactive background: the fusion lab (It's in the middle of the list, right after "Desktop")! Place a character in the left capsule, place another one in the right, and then doubleclick the one in the middle! It takes parts of both characters and combines them!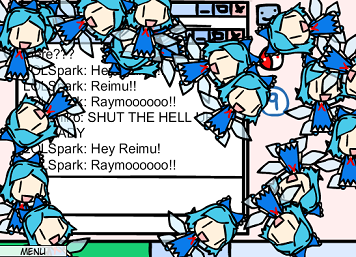 The "desktop" background now has added interactivity! Click on the desktop icons for stuff to happen! Chat with Marisa and others! Summon Grouchy Reimu! Flood your desktop with Cirnos (I swear, the fact that this is the 9th image in this post is just a weird coincidence)!
There are additional features planned, so you can expect more in the future! If you see any errors, go ahead and report them here so they can be fixed for next time. Same goes for suggestions; post them if you have them. Again, thanks to Thefre for handling all the complicated actionscript stuff, and we hope you enjoy the latest version of create.swf!