It's August 26th, and you know what that means! Well, maybe not, but I will tell you! As of today, Walfas has been around for two whole years (yes, really)! So in celebration, here is a blog post with a ton of links to posts made in the past year, just like last year's anniversary post! Expect much reminiscing.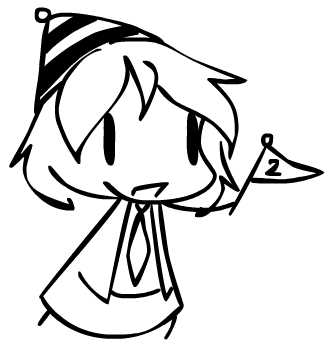 Here's twenty-something somewhat-interesting daily flashes, because I couldn't narrow it down to just ten!
SI Units
CHEN (CHEEEEEEEEEEEEN)
Emergency brakes (introduction of secret ends)
Newspapers (Happy Alice)
Happy 200?
Carnot Engine (The strongest engine!)
Courtroom Shows (Judge Sikieiki Yamaxanadu)
TV Remotes
Capacitors (Microferrets!)
Daylight Saving
Image verification
Mathletics
Gerrymandering (Pokemon!)
Secrecy (on the APs) (That character)
Side effects
Eye contact (On the subway)
Unnecessary Research (100 random possibilities)
Safely Removing Hardware
The next three are more important!
Daily flash #200
Tablet (When I got a tablet and stopped drawing with a mouse!)
Beowulf (Five-part series involving Beowulf!)
And then there was
the 8-part animated documentary
about animation that I did for a school project!
This year, I did a lot more animations than last year, though all of them were simple looped ones. Here are three of the series:
Suwako vs Kanako
Marisa's Book Stealing Adventure™
Twuck conflict
(There's also the series of badly-colored animations, but that's pretty recent)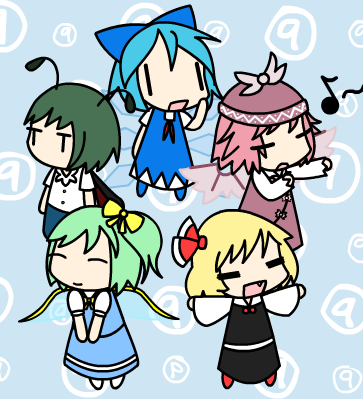 And of course, this year was the beginning of Walfas merchandise being sold at Japanese Touhou conventions (and in an online shop, but the Touhou stuff was put on hold)!
Scarlet Square (?-crew folders)
Reitaisai 6 (Yuyuko keychain)
Fuhai Komachi 5 (Kaguya keychain + Talka meets ZUN!)
Akatsuki no Utage (create.swf folders)
Comiket 76 (Aki sisters folders)

And now for a bunch of things involving Walfas and Japan!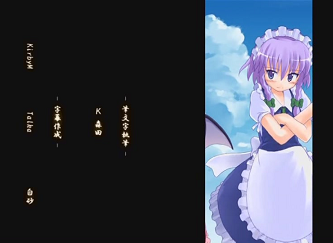 Remember the MAIKAZE Touhou anime thing? A memorable event indeed!


And that one video (?? in the Walfas) made by someone on Nicovideo!


And when another person took the Y?USEI flash, translated it into Japanese, and added a nifty Cirno-themed arrange of the music from the original Usatei! Unfortunately, the YouTube video got taken down, but the one on Nicovideo is still there!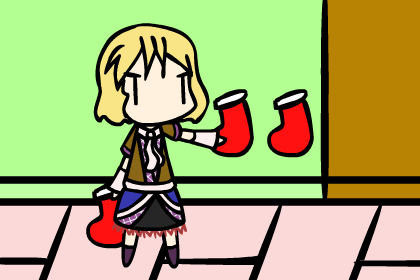 Remember the Touhou story flashes? Well… yeah. There was one real one this year: The Parsee Christmas flash! Unless you count the second boxing day flash, that is. Gosh, I never even got around to finishing that SWR flash I started on a really really long time… but I don't think that idea is going anywhere. I have one new idea and don't know when I'll get around to making it into a flash, but it'll probably pop up unexpectedly within the next year, so look out for it! Hopefully.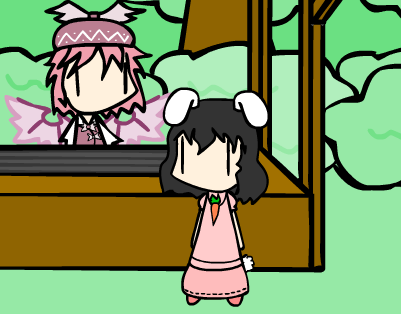 Then there was the second April Fools day flash! Unlike the one from last year, this one actually loaded! But to no avail.


And for some real-life stuff, there was when I was accepted to college! Yeah!

The site has definitely come a long way since the first post, which seems horribly outdated now. The site has no random IRC/forum things or stuff about anime I'm watching, Hidamari Sketch first season subs have long been finished and a third season was recently announced. Wong's site isn't really about Touhou anymore, but I'd still like to thank him for inspiring me to make a blog in the first place. While I'm on the subject of giving thanks, I'd also like to thank Iori E. Even though he doesn't really make Touhou parody videos anymore, I really enjoyed it back when he did, and I guess it was part of my inspiration to make some of the stuff I've made.

And finally, something I haven't posted on here before, but I guess now would be a good time to do so. Winn made a comment on Twitter: "????????????????????????KirbyM???????????????????????" which a friend explained to me: "Winn is saying that it must be said that his creation of videos with chibi characters was mainly inspired by your videos." Winn then went on to say (in English): "It is not exaggeration, your flash is one of my starting point!" It's certainly nice to hear that Winn was inspired by the site and the stuff I've made on here, and I was very happy to hear that from him, considering how awesome his videos are!

And now I will end this post abruptly.